Proven SEO Techniques That Work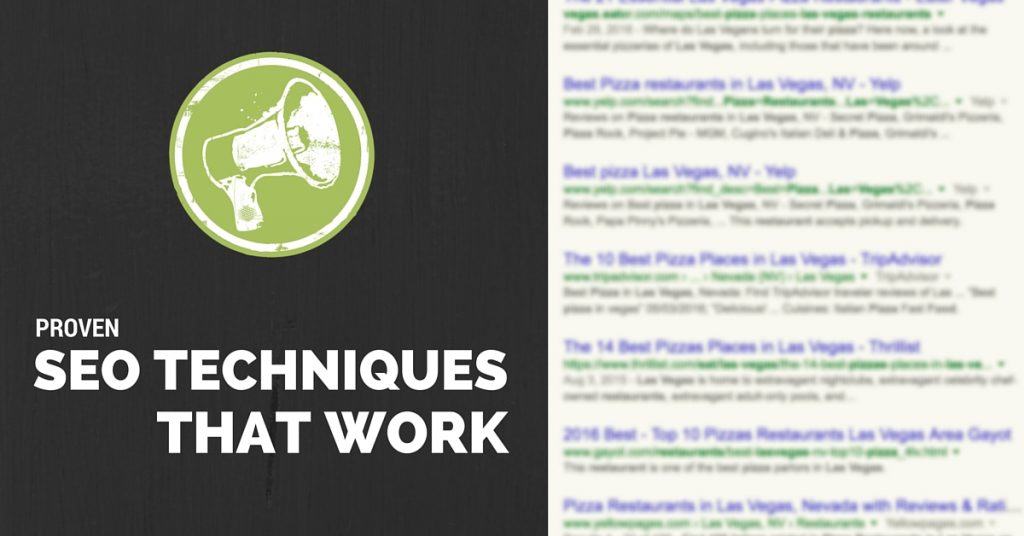 Websites need visitors like your business needs customers and sales. Search engine optimization is a tried and true method for getting visitors to your website.
Five to ten years ago, "submitting" your website to search engines was necessary but today, search engines will likely index the website automatically. It doesn't mean that the website will show up when you search for related keywords.
The reason is competition. Every position or listing on the first page of the search engines are taken by your competition.
Paying an SEO agency to rank your website will likely result in your website ranking in a position that was previously occupied by another website. Additionally, your website will rank differently depending on the search terms or keywords that are used to find your product or service.
Content marketing + SEO = Happy Search Engines
When creating pages on your website, keep SEO in mind. Keywords should show up in certain areas on your web page including the title, meta tags, URL, H1 tags, in the content, image filenames, and image alt tags. If you don't know what these terms mean, don't worry, your SEO provider does and will help you optimize your website for particular search terms.
Content (and information) plays a very important part of SEO. Longer articles with more content should be used for the core pages of the website and shorter articles on related topics is a good practice. That's why I recommend blogging as a way to boost the SEO efforts. "Keyword density" refers to how many times the search terms are used in the content on any given web page. Proper keyword density is essential to search engine optimization. A good rule of thumb is to keep the total keyword content of a given page under 20 percent.
Site maps help search engines catalog your pages more effectively. The site map, or navigation bar, lets the search engines access your pages from all other pages on the site. No site is too small to benefit from having a site map.
Keyword research
For our purposes, keywords are the search terms that people type into the search engines to find your products or services. Google will tell you how many searches are being conducted each month for just about any search term related to your business. This research tool is found under Google Adwords Keyword Planner. Use the Keyword Planner to generate a list of related keywords that can be useful to add to your website.
Side note: Can SEO help every business? Short Answer: No. Search Engine Optimization follows the rules of supply and demand. Supply is defined by the number of websites showing up in the search engine results. Demand is the number of people searching for those keywords. If no one is searching for your business, products, or services. If you have come up with a new invention and no one knows about it. No one knows to "google it". Then SEO probably won't help you out that much. In this case, I would recommend a strong social media marketing strategy with video marketing demonstrating your invention. Eventually, you may need SEO but it isn't a great way to generate new sales and customers if no one is searching for your product.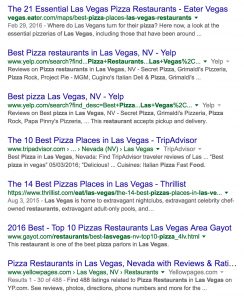 After deciding on your keywords, be sure to place them in the key areas of your web page (listed above). Because your title is going to be prominently displayed to users in search engine results (see image – the blue bold headline in the search results). This will help your site get clicked since it will fit searches better.
If you are planning on using a company to optimize your SEO make sure that you research them beforehand. Research their skills and experience, what SEO methods they use and what their charges are. Ask to look at some of their earlier work, or talk to a few of their old clients. A reliable company will be more than happy to comply.
As discussed earlier, SEO is crucial to getting visitors to your website if they know to search for your business, product, or service. When your website appears in search engine results then more interested viewers will find their way to your page.
Search Engine Optimization is a long-term digital marketing strategy. It will likely produce fantastic results but you won't see those results for months down the road. For more immediate results, I recommend a strong social media marketing strategy that is proven to work well for companies interested in increasing brand awareness and product sales.